The Joplin Area Habitat for Humanity Critical Home Repair Program helps low-income homeowners alleviate health and safety issues in and around their homes. Homeowners pay for these repair services through an affordable repayment plan. Repayment funds are recycled and used to assist future low-income homeowners in need of home repairs.
---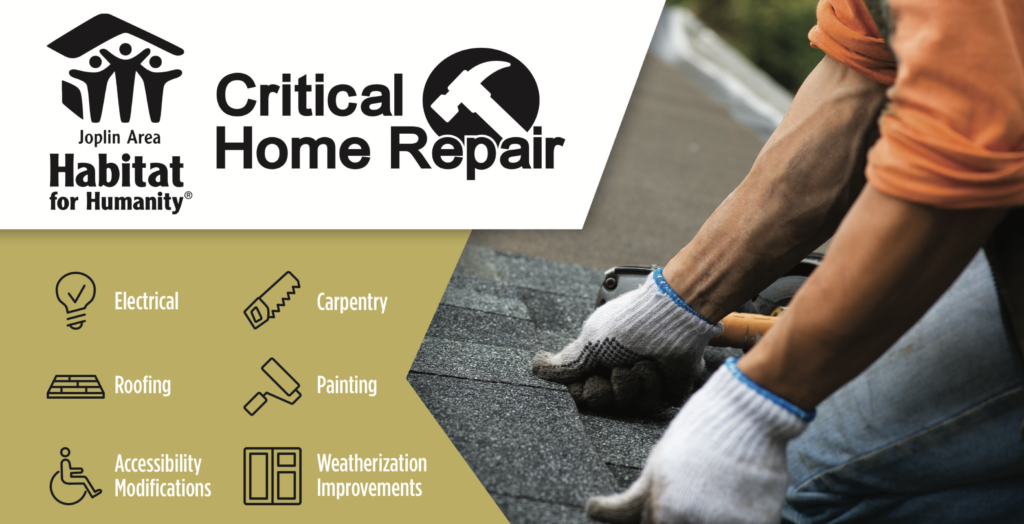 Repairs Include:
Carpentry
Roofing
Painting
Accessibility Modifications
Weatherization Improvements
Electrical
---
ELIGIBILITY CRITERIA:
Applicant(s) must own a property within Jasper or Newton County
The property must be owner-occupied and the primary residence
Homeowner(s) must be current with the following: Mortgage loan payment (if homeowner is still making payments), Homeowners insurance policy, and Property taxes.
The property must demonstrate a need for repair
Household income must be below 80% of the area median income (AMI) for the Jasper or Newton County area as indicated by the Department of Housing and Urban Development (HUD)
Homeowner(s) must agree to pay for the repairs at a maximum of 9% of project costs through a 3 year payback model. 30% of costs will be forgiven if paid within 1 year
Home must be a "Site Build" home not a manufactured, modular, or trailer home.
If you think you meet these guidelines, please fill out the application below: