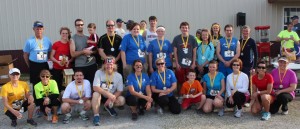 We had 65 racers overall. 37 in our 5k, 12 in our 10k, and 16 in our 1-mile fun run. The winners in all of the categories were:
Anthony Howard, Male 5k

Amy Doennig, Female 5k
Ken Schramm, Male 10k
Heather Mooney, Female 10k
Levi Richards, 1-mile fun run
After the race, our guests were treated to an evening of fun. There was face painting, popcorn and balloon animals for the kids and all of our participants and their guests were treated to dinner.
We want to give a special thank you to the Resource Development Committee for all of their help with this event and also a special thank you to all 10 of the Joplin Area partner families that came out to help and enjoy the event!
Thank you to all of the supporters who came out to run/walk/have a good time at the Joplin Area Race to ReStore! The race was definitely a success and we want to give a special thanks to all who participated in the race and made the event even better.
If you want to see photos from the event, you can check out our Facebook page. To see the results from the race, you can go to actnowracing.com!